Background: 13 Video Is A Senegal-African Film Company,So That's Why,It's Just Cheesy,And It Was Defunct In 1993.
1st Logo
(1981-1988)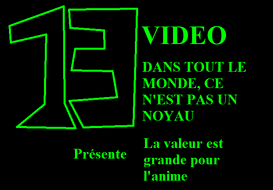 Nickname: "13 Video" "13 Of Doom" "13 From Hell/Heck" "Scariest Home Video Logo In Africa" "Worse Than African Film Companies And VHS Companies" "Nightmare On 13 Street"
Logo: On A Black Background,We See Neon Numbers Contains 13 Zooms In Similar To The Viacom V Of Doom,The Words "VIDEO" In A Times New Roman Font Fades In,The French Words "DANS TOUT LE MONDE, CE N'EST PAS UN NOYAU" Flies Until It Stops,The French Words "La valeur est grande pour l'anime" Fade In,"Presents" In French Flashes,It Stands 5 Seconds Until We Fade To Black.
FX/SFX: Very Insane Effects.
Music/Sounds: A Distorted Jumpscare,A Distorted,Creepy,And Dark Synth Tune That It Clocks For So 51 And 1 Minute.
Availability: Seen On Roblox Movies/Stories/TV Shows.
2nd Logo
(1988-1993)
Logo: TBA
FX/SFX: TBA
Music/Sounds: A Technology Chime Music,Accompining A Cheesy Sound Wave.
Availability: Current.