B.R. Buron is the vanity card company made by Byakuchou Ryakko Buron.
(1973-1994)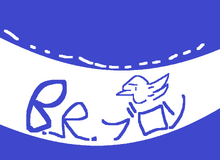 Logo: On a blue background, we see a curved flat line with filmstrip-like dots over it's upward border. Over the curved line we see the text "B.R." in Shiko, and the text "Buron" in Chouzikidai (a very-scripted version of Meiryo". Below it is an abstract eagle moving to the left and seeing to the right.
An animated variant also exists.
If necessary, the blue part of the logo is green.
FX/SFX/Cheesy Factor: None, just like less of the japanese vanity cards. At least they put animation into the logo, but the eagle looks weird.
Trivia: This was what Buron called "Sakashin", which means: "Retarded drawn eagle".
Music/Sounds: None, the opening theme of the show, or people singing "Buro-NNNNNNN!!!" followed by three dings coinciding with the singing of the people, either separated or jointed.
Availability: Seen on the original japanese dub of The Wonderful Adventures of Nils, among other animes such as Mr. Pepper Pot and Persia, the Magic Fairy and the earliest episodes of Shima Shima Tora no Shimajiro. It didn't make much anime, although it was seen on 70's tokusatsu such as Kyashi, Bakkokku! and Chouzen Kyo-Sindai, and if they ever reran, expect a plaster.
Scare Factor: Low for the non-animated version. The logo itself is so weird that some japanese people kept complaining about the design. But it's mostly harmless. Low to high for the animated variant, if you are expecting the logo to be still, you've got another thing coming, and that is the animated variant. It may give kids nightmares, but it's easy to get used to. Medium for the green version, for the same reasons as above, but the logo may get you puke.