This is the Guyanan Jay Ward Productions, not the one who shows on the original Rocky and Bullwinkle show.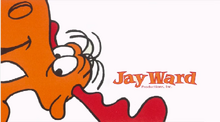 Logo: We see Bullwinkle turning in on a diagonal spot against a white background. The text "Jay Ward" on a cartoonish font, with the text "Productions, Inc." on Arial, appears over Bullwinkle.
Sometimes, the National Communications Network appears over the logo.
Sometimes, (again) The text "superbly presented by" appears over the text "Jay Ward" on Arial.
FX/SFX: None.
Cheesy Factor: Bullwinkle's mouth looks like it's seems to talk.
Music/Sounds: A sound of a moose. In the reboot of Rocky and Bullwinkle, before the sound of a moose, sound of a shooting arrow is heard.
Availability: Seen on The Peabody and Sherman Show, Sock Prestation and the reboot of Rocky and Bullwinkle.
Scare Factor:
None for the original version. The moose sound may catch some off-guard, but it's harmless.
Medium for the Rocky and Bullwinkle version. There's still a moose sounding in, but the arrow can get more than a few run in fear, for the poor moose.