Radio-TV Escola Produções is a company founded by the same person who made it's television counterpart, Assis Chateaubriand Bandeira de Mello. The company had a huge sucess three months later than their foundation in January 14th, 1942. Soon the productions became growing after the interjection of the series "Turma da Monica", which is made by Mauricio de Sousa, in 1952. Shows of the company never aired on TV Tupi, a reason is that the company had it's own TV channel. The company then gets to it's maxinum power in 1968, testing CGI and tremendous amounts of stuff that cannot be succesful on USA during it's poor but rich eras. In 1986, the company folded to make "Treehouse Televisão" and "Treehouse Originais" due to the fact that the brother of it's founder, José Establinho Chateaubriand-Calatranho, and him actually passed it's outside-television life on an scottish-forted treehouse, hence the company's name. In 2004, they sued it for one year beacuse the Canadians, which maked their own version of the didn't know about the television station they founded and think it was plagarism, but due to the fact that they showed a card saying "I like your shows" (translations) on a date unknown on 1993, 1 year before the Treehouse became founded, it returned transmitting it's stations, on 2005.
Radio-TV Escola Produções
TBA
Treehouse Originais
1st Logo (1985-1993)
TBA
2nd logo (1992-2003, 2005-2007)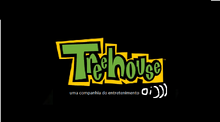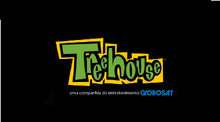 Nicknames: "The Original Treehouse" "The Jumping Letters" "Some Canadians May Watch This... Confused" "This Was Before Corus Own'd It, You Dig?"
Logo: On a black background, we see the word "Treehouse" in a green decorative font with yellow trim. A byline is below, whose animation varies depending on which byline.
1992-1996: uma companhia do entretenhemento Oi, with the Oi logo from it's era appears below the company's name.
1995-1997: Same as before, but with the current Globosat logo on the byline.
1998-2001: No byline. If necessary, the byline from said former logo is shown, or the text "Uma companhia do Globosat" with the current Globosat logo.
2002-2003: "Supervilmente apresentou com a companhia de Globosat" appears on the bottom of the logo.
2005-2007: "Uma apresentacao obrigada com o Globosat" appears on the bottom of the logo.
Variants:
There is a movement variant, when each letter jumps, and then the shadow of the logo, which is yellow, appears over it.
There is an in-credit version. The standard version was introduced in 1990.
There are two version of this logo: a clean version or a pseudo-filmed version that looks like it was taken off an old television.
On Turma da Monica, a hand with a leg appears (Monica) with it's bunny (Coelinho) strinking the letters, following an explosion.
FX/SFX: The byline. The movement variant is everything in the logo.
Cheesy Factor: The animation looks very simple and complicated, but it's pretty good since two decades on. It's a shame that it would be used on 1997 by the Canadian version of it.
Music/Sounds: None, the opening theme of the logo, or a jingle which includes a dreamy ditty, with kids saying "Vocé em Treehouse" followed by an excellent finale (which was later used as YTV's The Treehouse logo with translated lyrics, on 1997). The finale is interrupted in Turma da Monica, and whooshes and a slap are heard.
Trivia: This was composed in 1992 (date of foundation, before Radio TV Escola shattered its buildings and they had to make a new one), by Rede Globo announcer Galvao Bueno, and it's children singing it was the choir of Escola Nacional Deodoro da Silva, long before the original Canadian Treehouse existed.
Availability: Rare, seen on their earliest shows, such as said famous show or Os Detetives Antunes e Bandeira (1992).
Scare Factor: None to minimal. Minimal to medium for the movement variant, some may not know that the ending theme would be still and wind up with this. Medium for the Turma da Monica variant, many of the logo are not expecting how Monica strikes the letters and the sudden explosion can unnerve some! None for those who used to it.
The rest TBA.