This page is important and should not be deleted.
---
Anyone doing so will have their adminship revoked and banned, depending on the importance of the page.
NOTE #1: TheGachaGamerStudios is BANNED
NOTE #2: WendyCorduroy2020 and Bird93 are now allowed to edit this page all they wants. Edit it as much as you can, like add movie titles and TBAs.
Wilson Pictures is an American film and television company founded in 1992 by director Jade Wilson, and the others are Robin, Beast Boy, Cyborg, Raven, Starfire, Bumblebee and many characters that they adopted. The Company's location is the Real Jade's Mansion, The company distributes superhero, comedy, action, adventure, disaster, mystery, crime, thriller, classic remakes and sports movies. In 2019, Wilson Pictures was acquired by WarnerMedia, and most films distributed by 20th Century Fox and 20th Century Studios. In 2020, Wilson Pictures has many Divisions like Jade's Pants Films, Azarath/Beast Productions (founded by Beast Boy (TTG) and Raven (TTG)), Stunt Bee Entertainment (founded by Bumblebee (TTG)), Pulled Down Pants Pictures (founded by Gumball, Darwin, Lincoln, Clyde, and Charlie Brown), Great Pumpkin Pictures (founded by Linus Van Pelt and Sally Brown), Mayhem Sports Films (founded by Peppermint Patty and Lynn Loud Jr.), LunaMedia International Corporation, BMFC Records (founded by Bud Watterson, Miguel, Francine and Cleo Diller), Littlebark/Pond Productions (founded by Harvey Beaks, Fee, Foo, SwaySway and Zoona), Samantha Van Hof Productions, Film Lakewood (founded by K.O., Radicles, Enid, Dendy, Carol, Krissa, Diving Belle, and Red Action), Hot Strippers (magazine and production company founded by Leshawna, Lori, Leni, Carlotta, Catherine, Petunia, Giggles, Flaky and Handy-Lady (Sarahinc), Heather, Beth, Tammy (Emergency Receptionist), Sporting Goods Sales Lady, Drupe, Jade Rose, Carlotta, Alice, Cissi, Kelly, Pony Head, Peni Parker, Haleigh, Tiny Kong, Jinx, Jez, Saffi, Leena (as an adult), and Channy), Glowleaf Corporation (founded by Kathy and Kratz), Eastern Legend Productions (founded by Aki The Ninja Girl and Dennis), Wonder Mandarin Productions (founded by Clemmie, Tango, Teddy and Max), Dreamskaters Pictures (founded by Ronnie Anne, Sid Chang, Nikki, Casey and Sameer), Hazard City Factory (founded by Cardiff Goil, Argus, Ar'dalla, and Kogo), UniCorps (founded by Unikitty and Puppycorn), Arthur's Jeans Productions (founded by Arthur Read), PegMelia Productions (founded by Peg (P+C) and Melia (Melia And Jo)), PDA/TMI (founded by Ryan and Stephanie) Grooviest Material (founded by Hearty and Liebe from The QPiz), Object Home Video, Emotion, and many more.
This current logo is a parody and similar to Pascal Pictures.
1st Logo (1992-present)
Logo: Just the text reading "Wilson Pictures Presents" or "A Wilson Pictures Production" on the black background
Variant: in Geniuses from Kindergarten: the text reads "A Wilson Pictures Production" but in the different text.
FX/SFX: Fading in and out
Trivia: in The Caboozers: New Beginnings, the text reads "LunaMedia International Corporation and Wilson Pictures Present" appears.
Music/Sounds: None or the opening theme of the movie.
Availability: Seened in the beginning of every Wilson Pictures movie.
2nd Logo (1995-2005)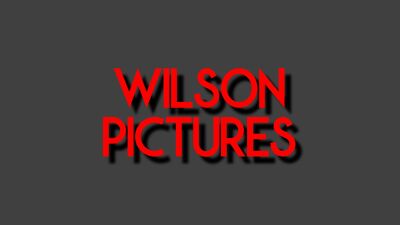 Logo: We see some time-lapsed clouds in the sky on a window, a kid watches the door and the shadow, and the kid walks in the door and it zooms out, then the red stacked letters "WI SON PICTURES" , zoom-in upward from the bottom of the screen and complete the words. The logo "shines".
FX/SFX: TBA
Trivia: TBA
Music/Sounds: Some ethereal synth music that culminates into a three light synth chords, then a loud orchestral hit just like Strand VCI Entertainment logo.
Availability: First seen on Last One Out of Beach City and later appeared on Recipe for Disaster, Is There a Ghost?, Two in Love Can Make It, Three Exclamation Points (!!!), The Top Artist of the Board and Netizens, It doesn't appear on Geniuses from Kindergarten despite showing the print logo on the cover and it appears in the trailer.
3rd Logo
(2005-2017)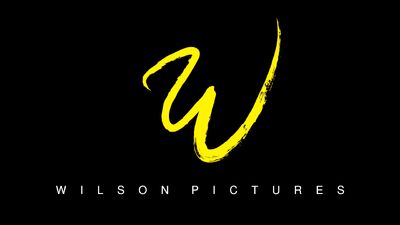 Logo: We see the starfield with a comet flying across. Suddenly all stars fold into a glowing yellow bundle, which then moves and spreads them out. The stars form the big yellow script letter W writes and zooms in. The text "WILSON PICTURES" fades in below.
Variant: A shortened version exists on TV shows such as Security System.
FX/SFX: Nice CGI.
Music/Sounds: A dreamy calm synthesized woodwind and bell theme composed by Sam Sharp (similar to the 2nd logo) or the opening theme of the movie.
Availability: First appeared on The Baldi's Basics Movie and later appeared on Here's CJ, Sisterhood, Chief Officer of Candy Co., Flu Murders, Money Heist, We Could Be Cops!, Crash Commando and Have You Scene It.
4th Logo
(2017-2021)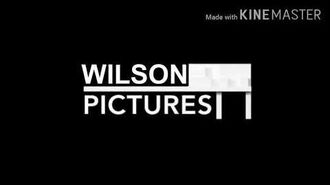 Logo: On a black background, we see lines wiping in from the bottom. Then it reveals to be a image of what appears to be in a living house, such as coffee and some kind of refrigerator. Then the words "PICTURES" wipes in next to the lines. Finally it turns into a multiple set of squares, and we then see the words "WILSON" appear next to the squares. During this, the logo is in blue tint while wiping, before turning metallic.
Variants:
On The Gravity Falls Movie and The Trial For Wendy, the logo glitches out into the Pines Family Productions logo.
In 2018, a 25th anniversary version was created. The text "25 YEARS" and "1993-2018" fade in above and below the logo respectively
FX/SFX: Good animation from DEVAStudios and Chrimera Studios.
Music/Sounds: Same as the Fox Lorber Films logo from 2000.
Availability: Seen on The Gravity Falls Movie (the first movie to use this logo), Batman Again, Batman Vs. Superman Part 2, Beast Boy, Bee Positive, Power Girl, Good Girls, The Trial For Wendy, The Objects, Fraternal Conjoined Twins, Detective Chimp and The Case of The Missing Mustache, Aki The Ninja Girl, The Loud House: Uninvited, Fee and Foo's Adventures, Leaf it To Kathy, HESS Kids, SwaySway A Duck and His Dream, OK KO: Let's Watch A Movie, Amethyst: The Gem Behind the Slaughter, Hello Neighbor, Bendy and the Ink Machine, Duke Nukem Forever, and Fionna & Marshall Lee (the last movie to use this logo).
5th Logo
(2021-present)

Nicknames: "CGI Logo", "Logo and the Lady in the Sky IV", "Water Tower Over Sunset", "The Reflection of the Mansion", "The Reflection of the the Water Tower", "From Los Angeles with the Brighter Side"
Logo: The camera pans across a beautiful, photorealistic CGI rendering of the Real Jade's Mansion with a soundstage at sunset, with the iconic water tower (displaying the W from the 3rd logo and "OFFICIAL HOME OF WILSON PICTURES" in five rows on it, in the new corporate font, WilSans) taking centre-stage. After a few seconds, the Wilson Pictures logo turns upright as it zooms out, revealing a realistic cloud background. The WarnerMedia byline fades in below as Jade Wilson in a yellow-ish green blouse with a black shirt underneath it, blue jeans with a golden belt, purple boots and gold earrings and an orange bracelet on her left wrist appears to the left, does a Vanna White-like pose, and she crosses her arms and the 20th Century Studios/WarnerMedia byline fade in as the logo shines and Jade winks at them.
Variants:
30th Anniversary Variant: "30" and "YEARS" appear from behind the logo and move away to surround it. "Entertaining The World" fades in underneath, followed by the 20th Century Studios/WarnerMedia byline in white.
in P-A-T-R-I-O-T-S!: she wears a Patriots uniform.
in On The Air: Same as the logo but the sunny background was replaced into a starry star background and she wears pajamas.
in Mamba: The Kobe Bryant Story: she wears a Kobe Bryant Jersey and shorts
in New Beginnings: Afterlife:
in Bumblebee: Maverick: Two Jets appears zooming under the clouds and Jade was frightening
in Clemmie, Tango and Bud's Adventures from The Vending Machines:
in Lynn Loud: #1 Winner of the Astonishing Quest:
in Objects Most Wanted: Lightbulb from Inanimate Insanity walks out, does a Vanna pose... and takes a huge bite out of the multiple set of squares. Jade is not amused.
in Hypernadocane A Hugest Disaster: Jade is frightening and she uses a umbrella in the stormy background.
Closing Variant: The tail end of the opening logo.
FX/SFX: Mindblowing CGI!
Music/Sounds: It's an even more dramatic, majestic, triumphant, and re-orchestrated fanfare and has a more powerful and stronger build up with choir, and the opening notes are now played on a guitar, piano and flute, composed and arranged by Joel McNeely, Billy Mallery and Pinar Toprak and performed at The Alfred Newman Scoring Stage, Los Angeles, California
Music/Sounds Variant:
The original 30th Anniversary version of this logo used a wind-blowing chime theme. or a nice orchestral theme just like the music from the 1995 movie "Geniuses of Kindergarten"
In those shows, the last note for the music of the logo,
in Pandemic Season:
in P-A-T-R-I-O-T-S!:
in On The Air: a mysterious theme from the movie
in Mamba: The Kobe Bryant Story:
in New Beginnings: Afterlife: throughout the Logos the music is "Hopeless Moment" by The Caboozers is playing
in Clemmie, Tango and Bud's Adventures from The Vending Machines: throughout the Logos the music is "Can I Kick It?" by A Tribe Called Quest is playing
in Partners in Crime:
in Objects Most Wanted: Starts with the wind chime effect, then segues into a Boombastic fanfare (with strings, horns, and drums) and when Lightbulb appears a whimsical music plays and after she swallows it it ends with a 4 note piece, the Logos features sound effects and voices.
in Hypernadocane A Hugest Disaster:
Availability: Brand new. It debuted on Locked Out (released in Europe as Pandemic Season), and later appeared on P-A-T-R-I-O-T-S!, On The Air, Mamba: The Kobe Bryant Story, New Beginnings: Afterlife, Bumblebee: Maverick, Clemmie, Tango and Bud's Adventures from The Vending Machines, Objects Most Wanted, Partners in Crime, Lynn Loud: #1 Winner of the Astonishing Quest, Challengers of The Unknown, Outriders, Deliver Us The Moon, Journey to The Savage Planet, Sackboy: A Big Adventure, Spider-Man: Miles Morales, Destruction All-Stars, Ratchet & Clank: Rift Apart, Cyberpunk 2077, Ready Player Two, The Strongest Team on Earth, Star Wars: Tales from the Galaxy's Edge, Plazalympics, Growing Up, DELTA-23, Come From Away, The Play That Goes Wrong and Hypernadocane A Hugest Disaster and it appears on these shows including: .
Editor's Note: A much more fulfilling effort from Wilson Pictures this time round, with more realistic effects, and it's a completely worthy successor to its predecessor.